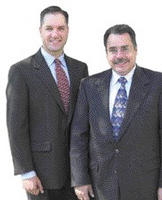 Afer unsuccessfully trying to relocate our growing insurance agency in San Luis Obispo, we were introduced to Maddalena Realty by a mutual friend. Within 45 days they located the perfect office for us. In addition, they recently made it possible for us to purchase the adjacent property. We are now assured the ability to sufficiently expand our agency for generations to come.
Gene Gray, Dan Troy of Gray & Troy Insurance Services, Inc.
Maddalena Realty, has represented me for over 20 years. They have assisted me in the sale, acquisition and development of several industrial and commercial properties in the San Luis Obispo, Morro Bay, Paso Robles,Santa Maria, and Lompoc areas.
Jack B. Dewar, J. B. DEWAR INC., PETROLEUM PRODUCTS
I have been a building contractor in San Luis Obispo for over 45 years. Roland and Andy Maddalena have assisted me in the purchase and development of several prime income properties. Because of their professional advice I am now retired and enjoy the security of a sound real estate portfolio.
Dennis B. Wheeler, President WHEELER CONSTRUCTION